::
Home

Kefalonia Guide

Skala

Submarine Perseus
Welcome to the Kefalonia Travel Guide.
It is a fully updated guide to all matters relating to this beautiful island Kefalonia in the Ionian Sea. Find information about the history of the island and about all the areas of interest for the tourist
Submarine Perseus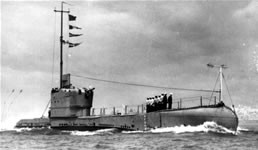 In the sea, just off the coast in the area between Mavrata and Scala is the British submarine 'Perseus' which sank on the evening of 6th December 1941. The fatal submarine became the grave of 59 dead including a Greek commander Nick Merlin., The submarine commander of the Perseus was Chief Mate Edward Ted Nicolay.
The submarine had left Malta on 24th November 1941 on an offensive patrol in the Gulf of Taranto and the Ionian Sea and then returned to base in Alexandria. Among the crew on board were Stoker John Capes, who was positioned in Malta and wanted to return to a ship located in Alexandria and the Chief Mate Merlin who was to be installed as governor in one of the Greek submarines in Alexandria.
On the evening of December 6th in the sea between Kefalonia and Zakynthos the submarine was hit by bad weather caused by particularly strong winds. Suddenly there was a tremendous explosion as the submarine hit a mine. Ripping away the bow section sending a terrible vibration throughout the submarine and sending it to the bottom of the Ionian Sea.

The sole survivor was John Capes who managed to escape from the submarine and swim 50metres to the surface using the breathing device 'DAVIS' (Davis Submerged Escape Apparatus). The villagers found him unconscious the next day on the beach and proceeded to put their lives in danger by hiding him from the invaders who at that time occupied the island. Amongst them, the islanders helped him for 18 months by moving him from village to village and hiding him in different places.
The two main people that helped him were Miltiades Chareras and Haralabos Vallianos. He was finally smuggled off the island and liberated to the Allied forces on the MI-9 boat 'Evaggelistria'.
For several years the story of John Cape was not credible because it was thought that would have been too difficult to be able to escape from the submarine especially after it had sunk.

The Greek navy, to honour Nicholas Merlin named a ferry after him, "Merlin Chief Mate" this also sank in 1972 off the port of Pireaus when it collided with the tanker "World Hero" resulting in 44 deaths..

A team led by Costas Thoktaridi after a succession of dives, discovered the submarine, which had laid there for 56 years. In 1997 with the help of the Tourism Development & Promotion and Community of Kefallinia in Scala began the search mission to locate the submarine 'Perseus' confirming the history of the Stoker.

Weather in Kefallonia

The weather now

Cloudy
Temperature: 21 °C
Saturday, 06 Jun

Intermittent clouds
Temperature: 18 to 22 °C
Sunday, 07 Jun

Sunny
Temperature: 17 to 26 °C
Monday, 08 Jun

Mostly sunny
Temperature: 17 to 26 °C
Tuesday, 09 Jun

Sunny
Temperature: 18 to 27 °C
Facebook like
Who's online
We have 21 guests online