::
Home

Katelios - Skala - Poros

Koroni
Welcome to the Kefalonia Travel Guide.
It is a fully updated guide to all matters relating to this beautiful island Kefalonia in the Ionian Sea. Find information about the history of the island and about all the areas of interest for the tourist
Koroni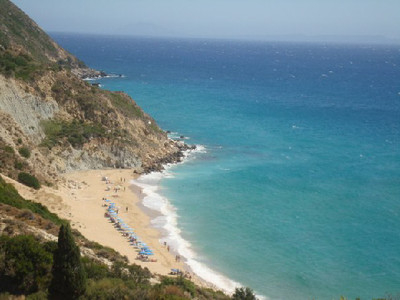 A beach not so well known, it retaines a special beauty. There is a small road in the village Thiramona which leads to this beach. The beach is quite large, has crystal blue waters, a few sunbeds and a beach bar that makes fantastic souvlakis. The sand is yellow-gold and the entire scenery resmbles exotic destinations.

Weather in Kefallonia

The weather now

Intermittent clouds
Temperature: 23 °C
Thursday, 04 Jun

Mostly sunny
Temperature: 17 to 24 °C
Friday, 05 Jun

Mostly cloudy
Temperature: 18 to 25 °C
Saturday, 06 Jun

Mostly sunny
Temperature: 17 to 23 °C
Sunday, 07 Jun

Sunny
Temperature: 17 to 25 °C
Facebook like
Who's online
We have 34 guests online