::
Home

Spartia - Klismata
Welcome to the Kefalonia Travel Guide.
It is a fully updated guide to all matters relating to this beautiful island Kefalonia in the Ionian Sea. Find information about the history of the island and about all the areas of interest for the tourist
Spartia - Klismata
Agios Thomas
Agios Thomas beach is located in the village of Karavados. It is a small beach but becuase of its extremely clear waters it is prefered by many, and you will never find it empty. On the other side of the beach is a huge smooth rock ideal for diving and sunbaithing as well. Right above the beach are numerous small taverns offering fresh fish. We suggest you visit it during a full moon.

Pessada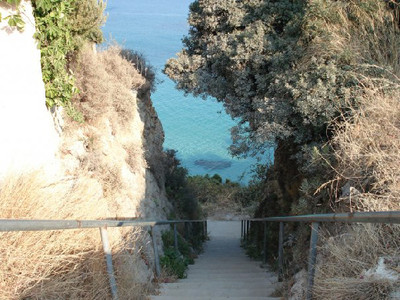 Pessada village has a beach as well as a port hosting the route from Kefalonia to Zakinthos. In essence iot is two small beaches sparated by a rock formation. One is called "Ammos" and the other "Vrisi". The first got its name from a narrow strip of sand constituting the beach and the latter because of the vast amounts of water running through it all winter long.Its waters are tourqoise blue and very clean. Due to the high rocks in "Ammo" beach lots of kids use these rocks as diving boards and compete against each other.

Klimatsias
A beach in Spartia village which is in the south side of the Kefalonia, prefered for swimming as well as fishing due to the existense of a marina. It is a quiet beach with crystal blue waters. On the seabed, there is a large rock whom the locals call "Stihero" due to its surface which is full of black holes. Moving along the beach coast, you will find a small bay called "Vronteri" taking its name from the lightning-like sound the tide makes when bashing its rocks. It's underwater scenery is amazing and because the rocks are at a small depth many choose to dive there.
Paliolinos
A small beach in Klismata village. If you make the effort of "hicking" so to say, its rocky coast you will find numerous small private beaches. Many people choose it for spear-fishing due to the peculiarity of its seabed.

Weather in Kefallonia

The weather now

Partly cloudy
Temperature: 14 °C
Thursday, 08 Dec

Showers
Temperature: 13 to 18 °C
Friday, 09 Dec

Cloudy
Temperature: 16 to 19 °C
Saturday, 10 Dec

Rain
Temperature: 15 to 20 °C
Sunday, 11 Dec

Rain
Temperature: 14 to 17 °C
Facebook like
Who's online
We have 24 guests online