::
Home

Lixouri
Welcome to the Kefalonia Travel Guide.
It is a fully updated guide to all matters relating to this beautiful island Kefalonia in the Ionian Sea. Find information about the history of the island and about all the areas of interest for the tourist
Lixouri
Agia Kyriaki
Agia Kyriaki beach is located near the area of Agonas, in the Municipality of Argostoli but can be accessed from the village of Zola which is in the Municipality of Lixouri. It is a long pebble beach with turqoise blue water. It has a quite steep seabed but people prefer it for quietness and relaxation. In the end of the beach you wil find taverns making thisscenery one of the most beautiful on the island. From this side of the island there are many beaches with crystal clear waters where you can visit by boat which you can rent at the port of Agia Kyriaki.
Lepeda
Lagadakia
A small beach with white pebbles and deep blue waters in Lixouri, kefalonia
Petani
Petani beach is one of the most beautiful beaches. It has many similarities with the beautiful and famous beach Mirtos but it is more safe because it is not so wild. It is protected by large slopes, has very deep crystal water, forming all the shades of blue and white pebbles combined with the fine white sand. Services include sunbeds, beach bars and many restaurants with fresh fish that are above the beach. The ideal visiting hours for Petani is around sunset as the sun dips in the waters giving your eyes a treat of nature at its best.

Platia Ammos
Platia ammos beach is in Lixouri. Located to the left of the monastery of Kipouria towards the village Kaminarata is this beautiful beach which many consider to be the new Mirtos. It has blue waters, very clean with golden sand and is ideal for relaxation since the the masses have not discovered it yet. This is because the access is disproportionate to its beauty. You must descend the 400+ steps to get down and climb them back up. Not for the feint of heart but well worth the effort!

Xi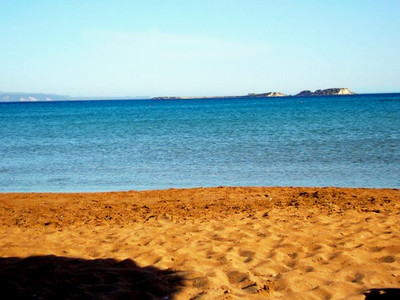 Xi is a long beach with red sand across from the island of Vardiani. It has been awarded the blue flag by the EU. It is a famous beach because it offers a natural mud-bath since the sand is high in clay. It has shallow waters and is therefore prefered by families with young children. It offers sunbeds, beach bar, showers and WC. During July-August it is bombarded by people but is worth the visit.

Weather in Kefallonia

The weather now

Cloudy
Temperature: 21 °C
Saturday, 06 Jun

Partly sunny with showers
Temperature: 18 to 22 °C
Sunday, 07 Jun

Sunny
Temperature: 17 to 26 °C
Monday, 08 Jun

Mostly sunny
Temperature: 17 to 26 °C
Tuesday, 09 Jun

Sunny
Temperature: 18 to 27 °C
Facebook like
Who's online
We have 50 guests online