::
Home

Kefalonia Guide

Argostoli

Lithostroto
Welcome to the Kefalonia Travel Guide.
It is a fully updated guide to all matters relating to this beautiful island Kefalonia in the Ionian Sea. Find information about the history of the island and about all the areas of interest for the tourist
Lithostroto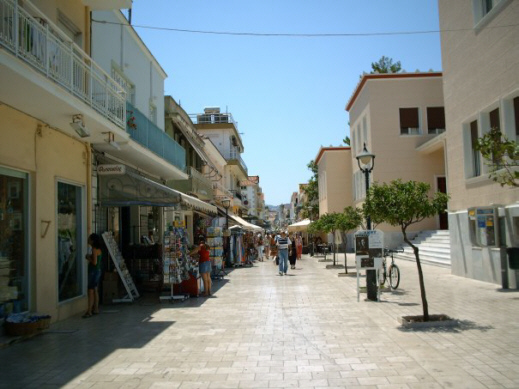 The Lithostroto is the main shopping street of the town with many commercial shops stretching along both sides of the street for about 4 meters. Before the 1953 earthquake it was, in length, about one thousand steps paved with blocks of white, which is from where it took its name, which remains the same today.The street starts from the a small square in the town, historically known as San Marco Square and then later as Freedom Square due to the advent of the democratic local French in 1757, who burnt the 'Libro d'oro' namely the Book of the nobles thus eliminating class differences. In 1770-1790 a square tower was built by the square with a large bell to give the time and thus providing the square with its name. Apart from marking the time it was used as a fire alarm and also to celebrate national anniversaries. On the ground floor of the Tower gendarmeries worked adding two lower wings. In the earthquake of 1953 the tower was destroyed and was rebuilt in its present form.



Weather in Kefallonia

The weather now

Partly sunny
Temperature: 21 °C
Saturday, 06 Jun

Mostly sunny
Temperature: 18 to 23 °C
Sunday, 07 Jun

Sunny
Temperature: 17 to 24 °C
Monday, 08 Jun

Mostly sunny
Temperature: 18 to 26 °C
Tuesday, 09 Jun

Sunny
Temperature: 17 to 26 °C
Facebook like
Who's online
We have 39 guests online