::
Home

Kefalonia Guide

Agia Efimia

Taverns-Restaurants

SPIROS
Welcome to the Kefalonia Travel Guide.
It is a fully updated guide to all matters relating to this beautiful island Kefalonia in the Ionian Sea. Find information about the history of the island and about all the areas of interest for the tourist
SPIROS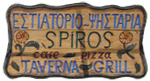 Our restaurant "SPIROS" can be found near the lighthouse at Aghia Efimia. Our 35year experience guarantees high quality ingredients, original tastes, a friendly environment, superb service and good pricing. Our cuisine is based on the Greek and Mediterranean diet. We are one of the few restaurants in Kefalonia and the only one in the district being acknowledged with the''Quality and Safety'' sign by the Greek National Tourism Organization. These are the foundations that set us apart and have granted us the pleasure of satisfied repeat customers, every year.

Our tavern has a traditional design and offers an unobstructed view to the crystal blue waters of the Ionian sea along with the many sail-boats that visit the area yearly.

Weather in Kefallonia

The weather now

Partly sunny
Temperature: 21 °C
Saturday, 06 Jun

Mostly sunny
Temperature: 18 to 23 °C
Sunday, 07 Jun

Sunny
Temperature: 17 to 24 °C
Monday, 08 Jun

Mostly sunny
Temperature: 18 to 26 °C
Tuesday, 09 Jun

Sunny
Temperature: 17 to 26 °C
Facebook like
Who's online
We have 24 guests online